It is no secret that your performance is hugely vital to the profitability, reliability, overall success of any online venture. As a direct result, websites across many industries are starting to utilise a new technology known as Progressive Web Apps (PWAs).
PWAs are fully supported by Google, with the front-end technology aiming to deliver a high level of performance regardless of the device, operating system, or network. PWAs can produce such high performance because they can be enhanced with native app qualities while being a more straightforward managed solution for the consumer.
To truly understand how a Progressive Web App differs from a conventional website, it is best to give them a test drive yourself. So we have developed a list of PWAs from large organisations right across the world that you can get acquainted with before looking to invest in the hottest new trend in the development world.
Starbucks
Starbucks is looking to ensure that it provides a fully accessible, user-friendly online ordering system to its customer base. Starbucks built a PWA for online ordering of products, which was similar to their native app. To put it into layman's terms, they made a PWA, which allows their customers to browse their menu, add items to their cart and enjoy the Starbucks experience, all while being offline. Once online, they can view location-specific pricing, menu items and place their orders.
PWAs are great for those customers who are on the go and dropping in and out of connectivity or those in more rural markets where the connection is less reliable or non-existent. Since the launch of the PWA, Starbucks has already seen significant results, with their PWA being 99.84% smaller than the existing native app, they have since seen their web user base double, and desktop orders nearly match mobile.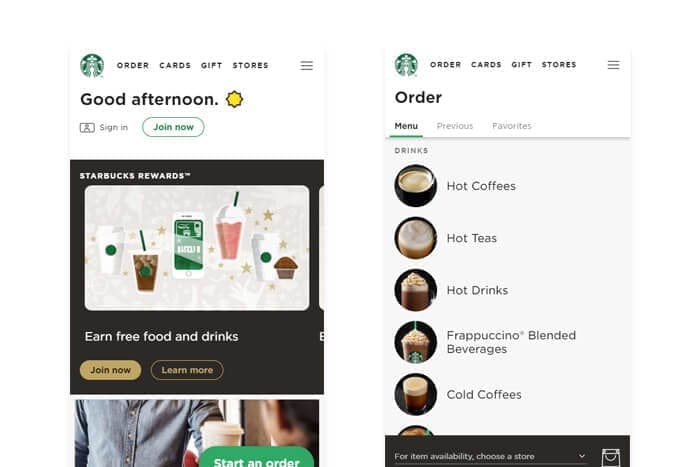 Uber
As Uber expands to new and emerging markets, they have looked to build their websites from scratch as a PWA to offer an almost identical booking experience to their native app. The Uber PWA was created so its customers can make car bookings on low-speed, 2G, 3G networks, not only an option but a viable one.
By bringing the native app experience built in a PWA format, Uber has enabled quick ride requests regardless of location, network speed, connectivity, and device. The core app is only 50kB, which allows it to load within 3 seconds on 2G networks.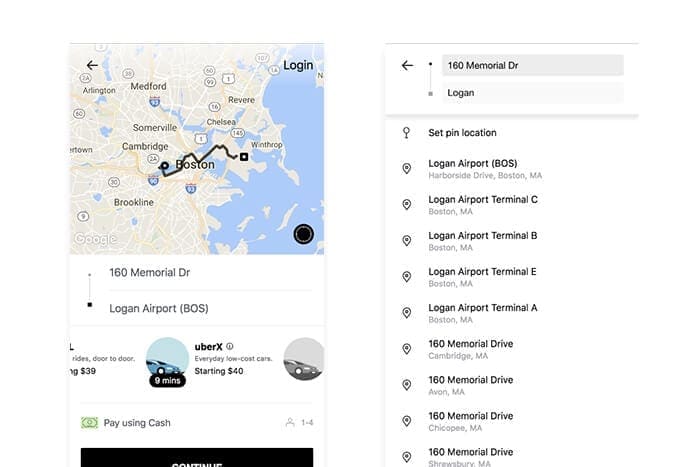 Pinterest
With Pinterest implementing a new international growth strategy, the use of PWAs has become integral. Before a PWA model, they had found that only 1% of their mobile users were converting into sign-ups, logins or app installs.
The poor performance of mobile for Pinterest meant that they quickly realised that they needed a new method, thus redeveloping their website into a PWA model. Since moving to a PWA model, they have seen growth in the following figures:
User-generated ad revenue is up by 45%.
Engagements are up over 60%.
Time spent is up by over 40%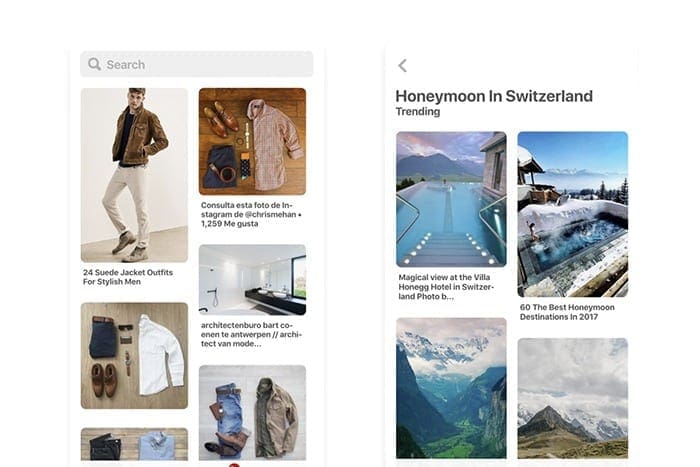 Spotify
Spotify's music player is now fully PWA-powered due to a disagreement between Spotify and Apple regarding Apple's 30% app store commission charge. As a result of the commission, Spotify took the opportunity to start developing a PWA version of their app alongside many other big brands. Interestingly in comparison to their native app, the PWA version is considerably faster.
You can see for yourself that some of the biggest brands in the world are utilising the power of Progressive Web Apps (PWAs) to help combat a variety of problems. Whether it be: Network Issues, Connectivity, Commission Charges, Engagement, Referrals, Data Size, or Speed, they see all these issues resolved in one neat package. Moving on into late 2021 and beyond, PWAs will be the norm right across the board, and you shouldn't miss out on an opportunity to get ahead of the curve!