Are you a business looking to develop a mobile application? Do you feel that you are stuck in past times? If you answered yes, then you are in the right place!
Gone are the days of traditional marketing techniques as we enter a period which is dominated by digital. You may think that having a Facebook, Twitter or Instagram business account is enough to get your brands name out there, however it is just not enough. Over the last two years, mobile phone app usage in the UK has increased significantly by over 30% with many reports suggesting that businesses are seeing a rise in turnover.
Here at internet creation, we love all things digital. Due to the continuing rise of smartphone users, we feel that mobile application development is beneficial for companies to keep up with the latest trends. Our unique procedure for creating business mobile apps means that we can assist your company to stay ahead of its competitors. Below is a number of reasons as to why we think every business should have a mobile application.
Customer Engagement/User Experience
Firstly, if clients are unable to reach your business then you simply run the risk of losing customers. In general, a client will prefer information about a service or product being delivered to them in the easiest possible way with next to no waiting time. Mobile applications are a perfect way to do reach out to your customer base with maximum efficiency.
Nowadays, smartphones are not just gadgets, they are very much part of everyday life. Having a mobile app allows people to access your information and services
at any time and place with only a few swipes of their phone – how good is that?! For example, if you are a hotel group that provides an online booking service, our mobile application features let the user complete the process in a matter of minutes, meaning no more pointless pages and ads!
In addition, mobile apps offer clients not only an appropriate service but also a personalised bond with the company. By storing consumers private settings, shopping history and wish lists for example (not to mention the benefit of not having to log in), companies can make users feel like they are really cared about.
Furthermore, apps usually operate well without an internet connection and allow other pieces of a user's phone such as the camera, photo library and location to provide them with an experience which is worth their time.
Increase the Visibility of your Brand

Our mobile apps for business will have your brand name and logo on it. By having a well-designed application, users are able to experience what your brand truly stands for. Once a client has downloaded your app, there is no need for search, your brand will be right at their fingertips – and who is to say they won't show it to a friend!
However, all of this means nothing if your app is not usable. You must make sure it has likeable features related to the product or service that you are selling. The more a customer uses your app, the more they will recognise your brand!
Competitor Advantage
With the number of people using mobile apps for buying products or services increasing, companies can use them as a platform to gain an advantage over its comp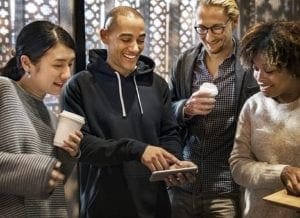 etitors. Some of the main features we offer for our clients are the use of direct push notifications and customer loyalty schemes. These make users aware of the latest deals, new offers and trends available on your app meaning closer interaction between them and your business. It can also reduce the chance of a consumer looking elsewhere for a similar type of product.
Having a mobile app can make you stand out among your competitors and can drive customer loyalty and engagement up to an unrivalled level!
Direct Marketing and Sales
Mobile apps provide a lot of information about your customer base. Once you know their preferences, the easier it will be to meet their needs! Marketing directly is extremely beneficial to a business as your customers know who you are and what you do, meaning they tend to trust the information you are giving them.
Large brands can spend thousands of pounds on marketing campaigns to target new customers, however if your business is unable to do this, you can seriously benefit from having a mobile app. It is commonly known that the majority of people in the UK spend hours a day using social media. Our apps are designed with a social media integration feature which link the app to all relevant social media channels. Customers can therefore share information about your business to their friends and followers.
In addition, if your customers share their positive experiences with your brand to their followers, it is only going to increase the chance of greater sales for your company. For example, Domino's Pizza online sales increased by 28% in the UK alone after releasing their mobile app. If that doesn't make you want to get involved with mobile app development, then I don't know what will!
We think these are the major benefits that mobile app development will bring to your business. After all, it is all about providing a first class and efficient service to your customers so put their interests and needs at the forefront of your mind! By developing a mobile app, you will increase the likelihood of customer loyalty, brand awareness and overall revenue. If you don't already have one, then what are you waiting for?!